Small Bus System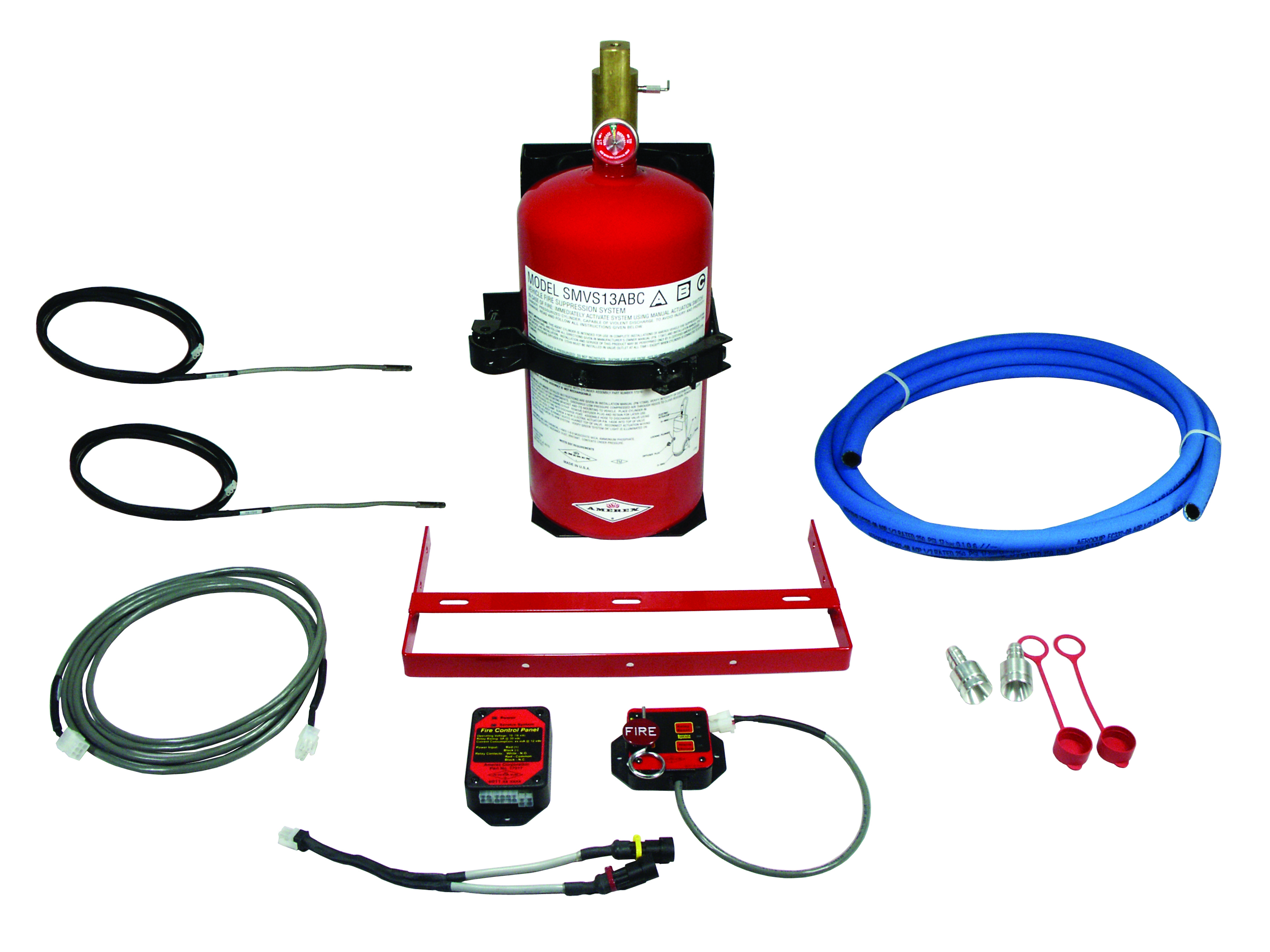 Small Front Engine Bus System: The Amerex Small Vehicle System (SMVS) is designed specifically for use on front engine vehicles such as para-transit, airport shuttle and other small front engine applications.
APPLICATION

Para-transit vehicles
Medical fire and rescue vehicles
Armored transit vehicles
Parcel delivery vehicles
Rental transport vehicles
Shuttle mini buses and vans
Vending delivery vehicles
Cutaway vans
Other front engine vehicle applications

 BENEFITS

Provides low cost fire detection and suppression for front end vehicles
Supervised circuitry with zoned LED alarm circuitry
Provides fire suppression capabilities from -40°F to +150°F
Non-rechargeable cylinder (discard after any use)
One-year warranty on all components
Latching-zoned alarm indication
Push-to-test function

 SYSTEM INCLUDES

Components may vary depending on vehicle.

Charged cylinder
Cylinder bracket
Nozzle/Detector bracket
Pre-cut hose
Fire control panel
Display panel
Communication cable
Heat detectors
Nozzles
Mounting hardware

 MANUAL FIRE SUPPRESSION RELEASE ON DISPLAY FACE

One-hour battery backup using a standard 9V battery
Audible trouble and fire alarm
Vibration resistant detection design
Two heat detectors and two nozzles
Rapid response heat detection
Rugged, compact design
Uses existing Amerex linear actuator
10VDC to 30VDC operating voltage
Internal relay for engine shutdown
Low power consumption (60 ma)
13.2 lbs. (6 kg) of ABC dry chemical powder

Amerex has once again revolutionized the industry with the development of a cost efficient fire suppression system specifically designed for small – front engine transit vehicles.

The Amerex Small Vehicle System (SMVS) is designed specifically for use with front engine vehicles such as Para-Transit, Airport Shuttle and other small front engine applications. The SMVS kit includes all hardware components required for a complete turn-key Automatic Fire Suppression System. The electronics portion of the system is made up of a Vehicle Operator Display with Manual Release Pushbutton, a wiring Interface Module, and two Solid State Heat Detectors. The system is continuously supervised for proper operation. If a trouble condition is present, the Operator Display indicates a diagnostic Service System LED. In the event of a Fire condition, Automatic Fire System actuation occurs, an audible alarm sounds, a Fire LED illuminates and an internal relay is energized. The Control Panel features visual LED system status indicators, a silenceable audible alarm. Backup power is supplied by a standard 9 volt alkaline battery. The Fire Suppression System is FM approved. The electronics also carry CE Type approval.

Every product we manufacture is designed with you in mind. The Amerex SMVS system is simple to install, is low-maintenance, and has a user friendly interface. With the quality you expect from Amerex products, our expert staff of engineers has designed the ultimate in fire suppression for small transit vehicles.
Find a Product
Find a Distributor
Moving Industries Forward by Redefining Fire Suppression