Z-Series™ High-Performance Extinguishers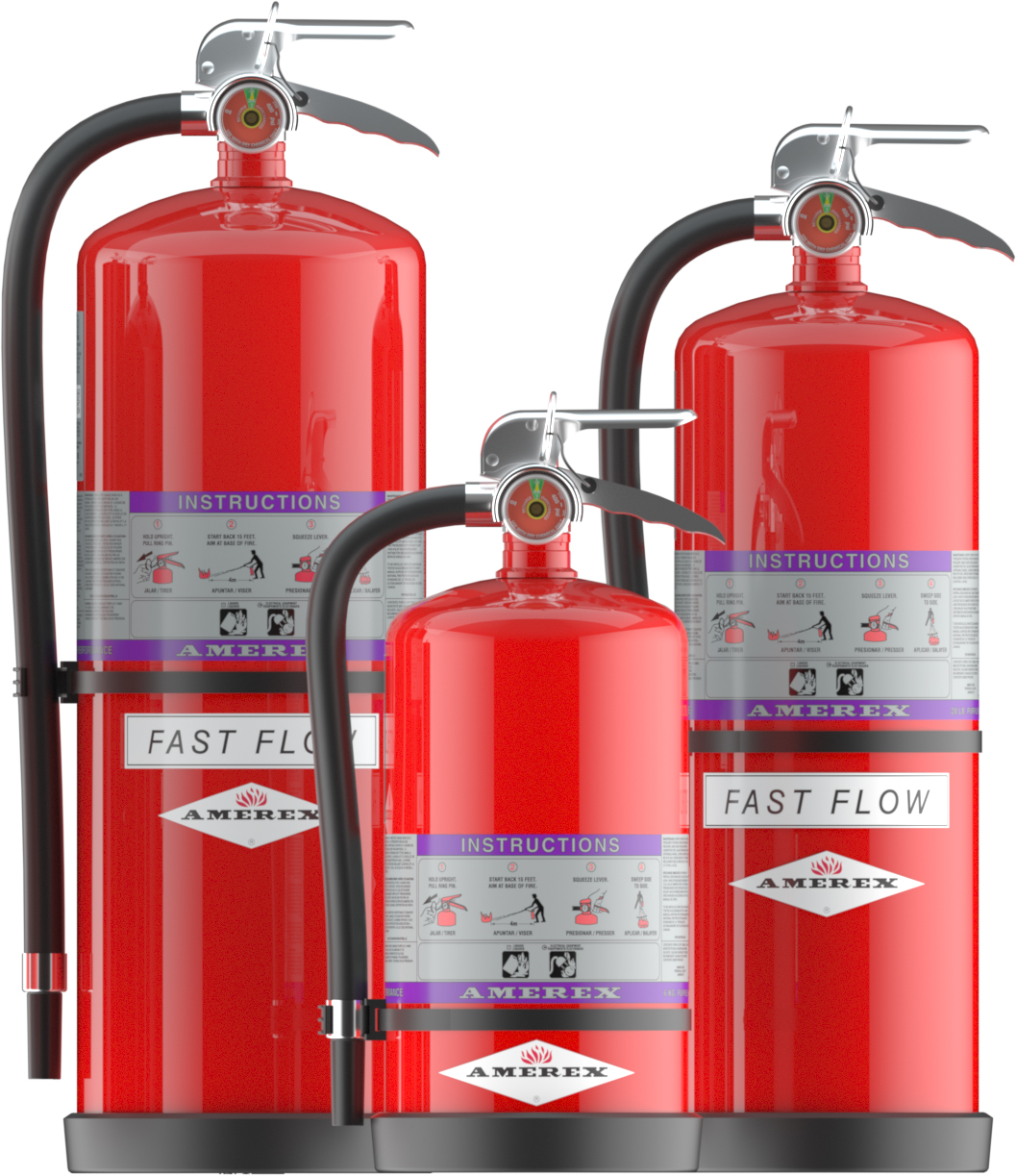 Extinguisher Type(s)
Hand Portable Extinguishers: Amerex manufactures a full line of hand portable and wheeled fire extinguishers, both "compliance" (code required) and "specialty" types.
Available in both Fast Flow and Compliance Flow models, the Z-series High-Performance extinguisher offers superior fire protection and reliability in the most challenging situations. With our exclusive Amerex paint process, fewer moving parts and simple design, these extinguishers provide the ultimate in corrosion resistance, plus minimal repair and maintenance costs over time. 

Benefits of Stored Pressure Extinguishers: Extremely low maintenance costs make stored pressure systems an ideal choice for extended use in harsh surroundings. Stored pressure systems mean no separate nitrogen cylinder or regulator to test, no chemical contamination without discharge, no moisture seals or high-pressure hoses to replace or inspect, and fewer parts requiring replacement over time. With low maintenance costs, affordable price points, high reliability and general ease of use, stored pressure systems are an ideal choice for extended use in harsh surroundings.

Our customers put Amerex to the test every day in the world's most extreme work environments.

Oil and gas platforms 
Oil refineries 
Mining operations 
Coastal and marine environments 
Agriculture 
Industrial climates 
Waste management processes 

High-Performance extinguishers are the ultimate choice in fire extinguishers for high hazard, frequent use and extreme environment applications. Economical – less initial cost, lower maintenance costs and greater reliability than cartridge operated extinguishers.

Fast Flow models discharge at high flow rates, delivering more pounds of chemicals per second to supply the safest and fastest three-dimensional "knock down" capability. Ideal for high-risk areas, Fast Flow models deplete faster than their Compliance Flow counterparts and offer impressive results in the face of fast-moving fires. 

Compliance Flow extinguisher has a higher UL rating, extended discharge times and lower flow rate, allowing it to meet or exceed a diverse array of code requirements. Available with ABC or Purple K dry chemicals, compliance flow models discharge at a rate that is roughly 40–50% slower than Fast Flow models, with the same initial range and package dimensions. If checking code requirement boxes is high on your to-do list, Compliance Flow models are likely the best choice for you.
Find a Product
Find a Distributor
Moving Industries Forward by Redefining Fire Suppression