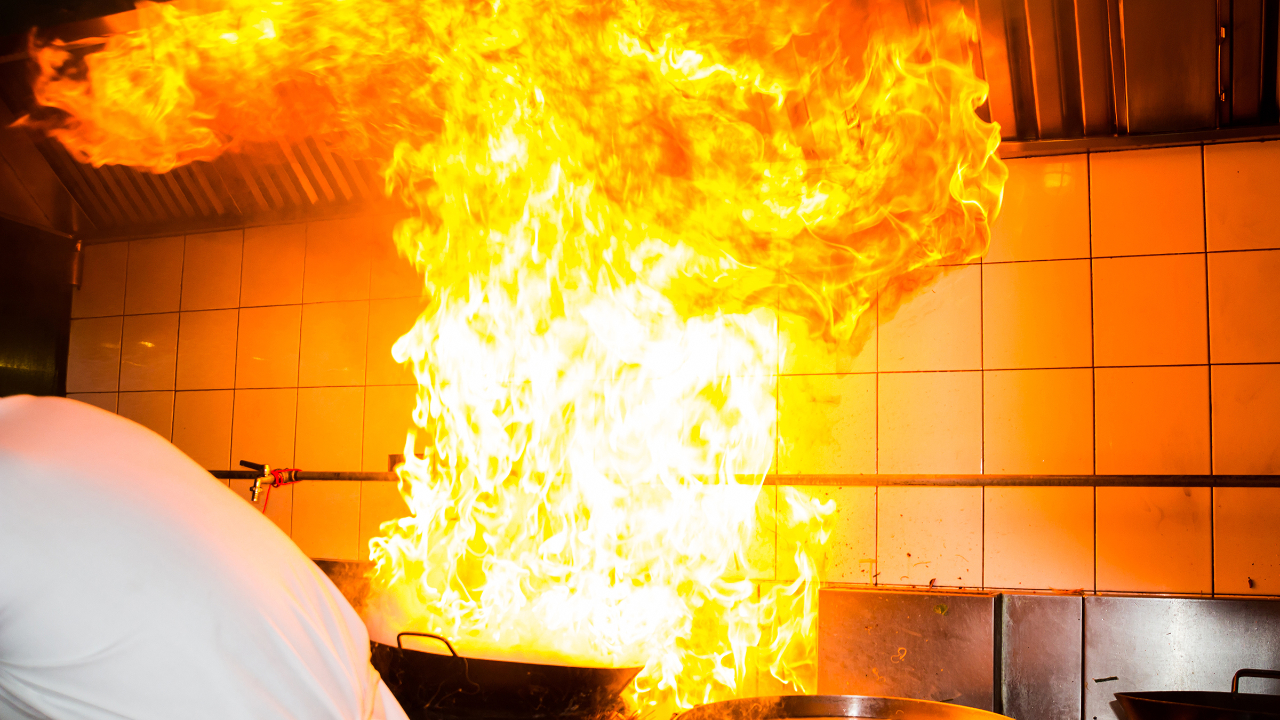 AMEREX KP Superior Kitchen Protection: The System for Restaurant Operators
The AMEREX® Kitchen Protection (KP) fire suppression system is already a staple in commercial kitchens around the world. Amerex innovations make it an easy choice to meet code requirements, keep people and property safe with a dependable system, and give restaurant owners and operators unparalleled ease of use and maintenance for years to come. Plus, Amerex's KP system meets the rigorous UL 300 standard for fire testing of fire extinguishing systems for protection of commercial cooking equipment required by NFPA guidelines.
From fine dining to fast food chains, the Amerex KP system fire has the components to meet your clients' needs with competitive pricing while never sacrificing quality.
Zone Defense means we've got you covered.
KP offers two appliance protection configurations — Appliance Specific, where the appliance location is fixed, and Zone Defense, an overlapping protection configuration that allows kitchen appliances to be moved or replaced without having to move system discharge nozzles. Zone Defense future-proofs the kitchen design and allows restaurants to adapt to changing consumer tastes or business conditions without repiping the fire system.
KP offers three different fire detection methods — standard thermal link detection or one of two linear heat detection options, pneumatic heat sensitive tubing or electrical linear heat detection. These linear heat detection options give you continuous full hood heat detection that allows appliance movement without changing detection. This range of options helps you right-size system configuration and price for your client's operation.
Is the STRIKE Electronic Control System your missing ingredient?
The Amerex STRIKE Electronic Control System (ECS) is the result of years of rugged electronic fire detection and suppression evolution in vehicles employed in mining, transit and military applications. Now, Amerex is bringing this advanced technology into commercial kitchens everywhere. Specifically designed to work with the Amerex KP System, STRIKE is the smart system for detection, actuation and system monitoring.
STRIKE uses plug-and-play electronic components for detection, actuation, and manual pull stations, replacing stainless steel cable, corner pulleys, fusible links, and other components where grease buildup can disable a fire system. Installation is quick, maintenance is simple and grease is neutralized.
KP with STRIKE is capable of monitoring and releasing two separate hood systems, either separately or simultaneously. This means your clients get the power and convenience of two systems for the price of one. Plus, your customers will enjoy cost-savings over the years from refilling only one agent cylinder and cleaning only one kitchen area from a partial system actuation. A smart system, STRIKE provides downloadable reports for problem conditions or actuation events and can be tied to auxiliary controls, such as a building alarm system.
KP Strike Features & Benefits
Appliance Specific or Zone Defense Coverage available.
Different agent cylinder options.
Less grease buildup on components.
Plug-and-play wiring for quick installation — no cables, conduit or brackets and less cost.
Fewer nozzles and agent cylinders — less cost.
Overlapping Zone Defense future-proofs cooking line-up.
Overlapping systems lend themselves to being factory fitted and thereby minimizing costly job site time.
Linear detection solution will not interfere with UV filters / grease separators.
No external A/C power required.
Standalone system not dependant on connecting to a water supply.
Unlimited number of electronic m/pull stations.
Provides dedicated interface to supervised auxiliary remote FACP for fire trouble indication.
Downloadable event logging and recording.
Trouble indication LED and annunciation.
Single and dual hazard zone detection with optional independent detection and actuation circuits.
Simple connection to building alarm/security system.
First responder's information available on the GUI.